Our Club for Customers Age 50 & Better!
---
Important Update: Coronavirus & Club Events
Because we take the safety of our customers, club members and our employees very seriously, we have cancelled all out-of-bank Ambassador Club trips and events from March through year-end 2020. In-bank events have also been cancelled from March through September.
---
Membership Requirements
There are just three simple requirements for joining and maintaining membership in the Ambassador Club:
Be age 50 or better.
Have an active checking account at

CBI Bank & Trust.

Maintain a combined deposit and loan relationship at one of two levels: Gold or Platinum. The requirement for Gold Level membership is $10,000+ in combined balances. For Platinum Level membership, it's $20,000+.
Benefits … Lots of Benefits!
What does an Ambassador Club membership get you? You might be surprised! Gold Level membership includes over a dozen benefits. Platinum Level has nearly twenty. Highlights:
Discounted services at the bank and at dozens of area businesses (see "Merchant Discount List" section below).
Preferred interest rates.
A variety of social events, activities and travel opportunities geared toward the "50 & Better" set.
Personal assistance from Ambassador Club Director Deb Wagg to help connect you to the right people at

CBI Bank & Trust

for your financial needs.
Merchant Discount List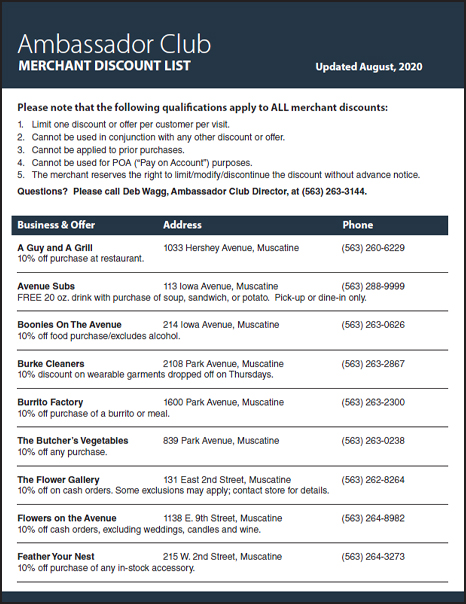 Click on the image to the left to access our current Merchant Discount list.
If you own or operate a business in our market area, and you'd like to be considered for inclusion in our list, please contact our Muscatine Park Avenue Banking Center and ask for our Ambassador Club Director, Deb Wagg for details. If you prefer, you can email Deb directly.
Preference is given to businesses that bank with us, and we reserve the right of choice for inclusion/exclusion of any proposed businesses or discounts.
Club Newsletter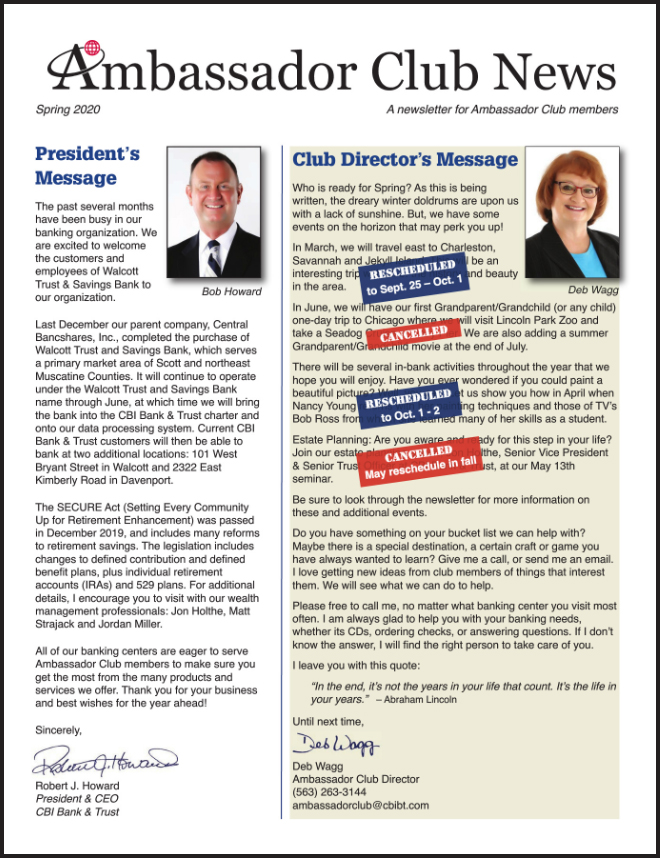 Our members keep up to date on club activities, benefits, and more through the Ambassador Club News which is issued periodically throughout the year.
An advance copy is sent electronically to members who have provided us with their e-mail address, while a paper copy is mailed later to other members. The current issue is also available shortly after publication at any of our banking Locations.
Click on the image to the left to access the most recent issue. Please note that you will be leaving our website and going to an external site that hosts our newsletter in flipbook format. IMPORTANT: Please note that as a consequence of the Coronavirus situation, events listed in the calendar section of the newsletter may be CANCELED OR RESCHEDULED. Further information is posted at the top of this page. Details can also be obtained by contacting our Ambassador Club Director, Deb Wagg at (563) 263-3144 or via the e-mail link below.
To Learn More or To Join ...
To learn more about the Ambassador Club at CBI Bank & Trust or to join, please contact any of our convenient Locations, or e-mail our Ambassador Club Director, Deb Wagg. We'd love to welcome you as a member!