Online Trust Account Access (Infovisa) Visit Now
Trust & Investment Department Services
Trusts and trust-related services have the perception of being complicated financial accounts available only to those in higher income brackets. However, they can be beneficial for many people regardless of income. At CBI Bank & Trust, our Trust & Investment Department can help you decide if a trust is the right option for you, your financial situation and your future goals and wishes.
Our Trust & Investment Department offers numerous services, including:
Living Trusts
A living trust is created during your life
Can be structure to be "revocable," meaning you have the ability to change the terms or end the arrangement if you wish.
Trusts transfer ownership of assets and property to a trust managed by a Trustee (CBI Bank & Trust ).
A living trust ensures peace of mind when it comes to investments, delays and expenses at your death.
Trust Under Will
Offers financial security for your loved ones after your death
An estate plan is created with the assistance of our Trust professionals and your legal advisor
Provides income and support to one or more beneficiaries, such as your spouse or any minor children
Ensures funds are distributed and invested according to your pre-established goals
Farm Management
For farm owners who lack the time or expertise to manage their property day to day
We recommend crop rotations, project income and expenses and help select prospective tenants
Regular communication (personal contact, reports and periodic statements) ensure you are kept in the loop
Conservatorships
Established in cases when you know you may become incapable of handling your financial responsibilities
Shifts financial management burden from our family and loved ones to the bank, your Conservator
Estate Executorship & Settlement
CBI Bank & Trust is named as the executor of your estate
Ensures your estate is settled according to your instructions
Shifts this burden from your family to experienced Trust professionals
Individual Retirement Accounts
Set up through the Trust Department at CBI Bank & Trust
Protects tax-advantaged status of lump sum distribution from your pension, 401(k) or tax-deferred retirement plan
Investment of funds is provided for
You enjoy the benefit of professional management of your money and friendly, local service
Employee Benefit Plan Administration
Services for administering SIMPLE IRAs, SEP IRAs and similar retirement programs for corporations, partnerships and individuals
We Can also manage complex retirement programs such as 401(k)s and Qualified Pension Plans
Ability to manage the creation of new retirement plans, as well as facilitating existing plans
Investment Management
You receive services like investment advice, recordkeeping, safekeeping of securities, collection of income and bill payment
Interest and dividend payments are reinvested in accordance to your directives
Saves you the time and effort that goes with managing investments and reinvesting interest and dividends
Contact a CBI Bank & Trust Department Staff Member
As trusts can be complex and influenced by a number of factors, we like to start with a personal appointment where we get to know you and your needs. Contact any of the CBI Bank & Trust Department staff members to arrange an appointment today.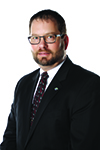 Jon Holthe, Senior Vice President, Senior Trust Officer
563-262-3124 or email at Jon.Holthe@cbibt.com
Blake Randel, Trust Officer
563-262-3823 or email at Blake.Randel@cbibt.com
Renee Sloan, Trust Administrator
563-262-3803 or email at renee.sloan@cbibt.com
Enjoy our Trust Newsletter!
We send an interesting, informative Trust newsletter to our clients on a regular basis --- just one of the many benefits of being a CBI Bank & Trust client!
Click here to access the most recent issue.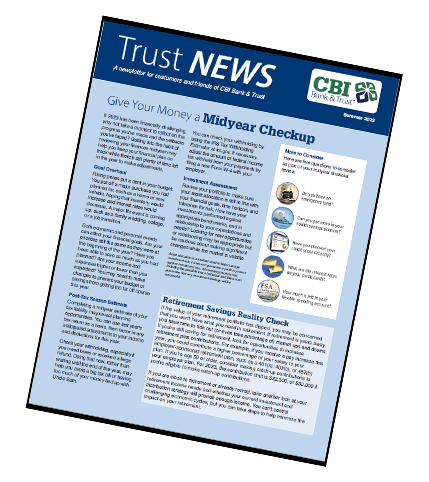 Regulatory Disclosures
Investments offered through the Trust & Investment Department are Not FDIC Insured, Not Bank Guaranteed, May Lose Value, Not a Deposit, Not Insured by any Federal Government Agency, and Subject to Investment Risk Including the Possible Loss of Principal.