An Investment Approach Focused On You!
Fancy suits, fancy investment products and fancy language; you will find those things at many investment firms. What you won't find is a lot of talk about you, your goals and your hopes and dreams for your retirement.
At CBI Bank & Trust and CBI Investment Services you'll find a refreshing difference when you come to us for your investment needs.
Our whole approach to investing revolves around one thing: you! Before we make a single recommendation, our team gets to know you, your future goals and your lifestyle. There is no pushing specific investment types or categories --- simply solid investing recommendations built on the helping you achieve your goals.
Our Investment Services Team

The team at CBI Investment Services consists of Matt Strajack, Vice President and Financial Consultant; Jordan Miller, Financial Consultant; and Pesey Davis, Administrative Assistant.
About LPL Financial*

Securities are offered through LPL Financial*, one of the nation's leading independent brokers. The lack of "in-house" investment products is essential, as it allows the focus of investment conversations and planning to remain where it should be: on the client and their goals.
Here Are Some Areas Where We Really Shine ...
Over the years we've helped hundreds of individuals, families and businesses in our market area with their investments. While we can handle a wide variety of functions, here are some that we encounter on a regular basis:
Pension Distributions
401(k) Rollovers
Individual Retirement Accounts
Proceeds From Inheritance and Estates
Porfolio Transfers From Other/Former Brokers
Tax-Free and Tax Deferred Investments
Annuities
Life Insurance
Contact The Pros --- Get Started Now!
CBI Investment Services is located on the second floor of the CBI Bank & Trust building at 301 Iowa Avenue in Downtown Muscatine. Building hours are 9:00 AM to 5:00 PM Monday through Friday. Advance appointments are always appreciated -- there's no cost or obligation, and it enables us to set aside the time to give you the attention you deserve. Here's how to get in touch:
Please Note: Electronic email is not secure. Please do not send sensitive information such as account numbers, account balances or Social Security Numbers through e-mail.
Visit the CBI Investment Services Website For Further Information
Additional information is available by visiting the CBI Investment Services website.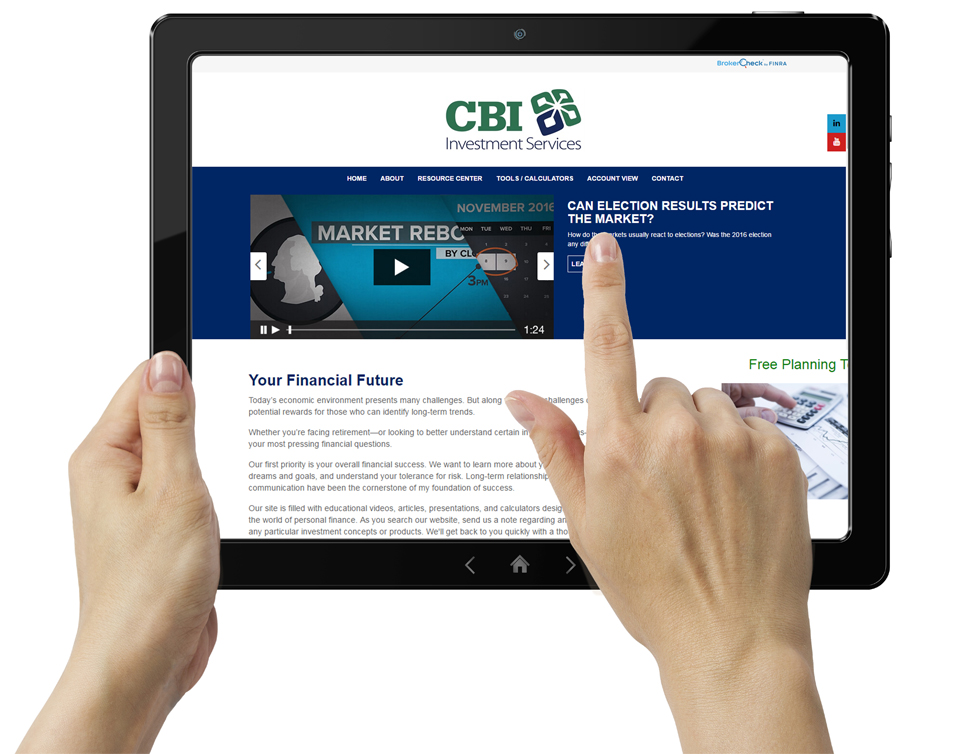 ---
*Securities and advisory services are offered through LPL Financial (LPL), a registered investment advisor and broker-dealer (member FINRA/SIPC). Insurance products are offered through LPL or its licensed affiliates. CBI Bank & Trust and CBI Investment Services are not registered as a broker-dealer or investment advisor. Registered representatives of LPL offer products and services using CBI Investment Services, and may also be employees of CBI Bank & Trust. These products and services are being offered through LPL or its affiliates, which are separate entities from, and not affiliates of, CBI Bank & Trust or CBI Investment Services. Securities and insurance offered through LPL or its affiliates are:
Not Insured by FDIC or Any Other Government Agency
Not Bank Guaranteed
Not Bank Deposits or Obligations
May Lose Value